31. Enable page flipping book to be shared on famous social platforms.
As an online flipping book publisher, you might desire readers to social share your e-publications on their personal social platforms such as Facebook, Twitter, Yahoo, etc.many people will know your book and visit your website. As the use of internet continues to spread, many people would like to share interesting things with friends by this way. Page flipping eBook can be share by this way too. Page Flipping PDF Professional will help to realize this.
Step1: open Page Flipping PDF Professional and design your page flipping book;
Step2: find "Social Share Button" bar in the left panel and make it "Show";
Step3: apply change to show the button in the toolbar. Readers can click this button and share the book on social platform with ease.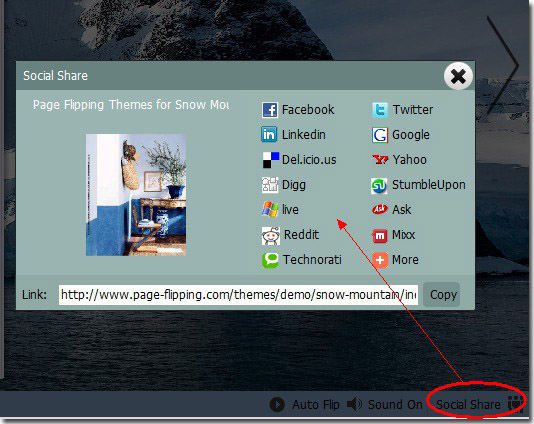 *Please be aware that you have to click "Apply Changes" to apply any changes to the page flipping book.
Free download Page Flipping PDF
Free download Page Flipping PDF Professional
Free download Page Flipping PDF Mac
Free download Page Flipping PDF Professional for Mac