84. How to add a link to open video window into flipping book?
Do you want to edit your flipping book with rich multimedia elements? Page Flipping PDF Pro can help on this. While surfing website, we can always open video window to enjoy watching interesting video. Then, can we also embed video into flipping book by this way? Viewer can open and enjoy a video by clicking a link. This is really cool and able to give surprise.
Page Flipping PDF Pro provides six action types for element you add into page flipping book. And in this case I make you an example to insert a link to open video.
Step1: launch Page Flipping PDF Pro and click "Edit Pages" to open the Flip Page Editor;

Step2: click "Add Link" icon and draw an area on page for link;

Step3: click "Action Options" icon and select "Open Flash Window" as the action type;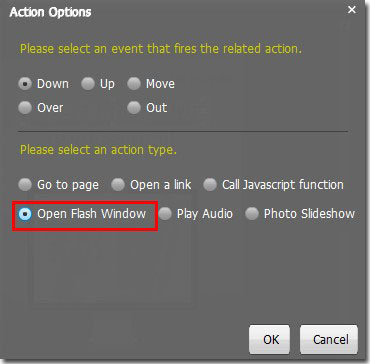 Step4: select "Open the window to play a video" as the Window Type; choose a video as the resource file; define Window Caption; you can also re-set the window size if necessary. Finally, click "OK" to save and exit the window;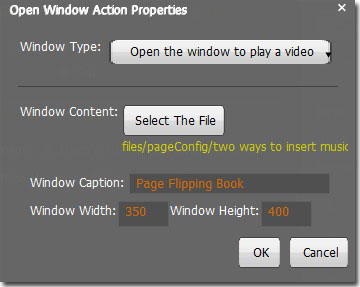 Step5: do not forget to save the settings before exiting the Flip Page Editor.
*Please be aware that you have to click "Apply Changes" to apply any changes to the page flipping book.
Free download Page Flipping PDF
Free download Page Flipping PDF Professional
Free download Page Flipping PDF Mac
Free download Page Flipping PDF Professional for Mac