32. How to add native language into Page Flipping PDF?
There are many people using the Page Flipping PDF Professional to convert PDF files to page flipping book. Some of you are not native in English. So you need to define a flash window in your native language for them. In other situations, your page flipping might not in English. For example, if you have created a flash book in French, you would like to make a flash window in French to coordinate with the book. Please refer to below tips to realize this function.
Step1: open the Page Flipping PDF Professional;
Step2: find "Language" bar in the left panel, click "…" to open the Language Settings window;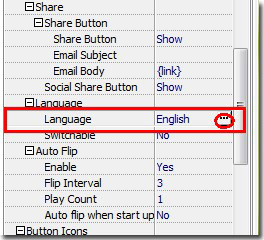 Step3: create a new language "Cantonese";

Step4: select the language in the left, double click the each label and redefine a new label for the "Labeled" bar. You can go to next item by clicking "Save And Edit Next".
*Please be aware that you have to click "Apply Changes" to apply any changes to the page flipping book.
Free download Page Flipping PDF
Free download Page Flipping PDF Professional
Free download Page Flipping PDF Mac
Free download Page Flipping PDF Professional for Mac