79. How to disable auto login to Page-Flipping server?
For convenience we would like to check "Auto Login" option to login to our accounts automatically. But once you need to change the login in account, the auto login mode will be disturbed. In usually, we should need to login out and then we can change the login in account at in the next time. But when you are creating page flipping book with Page Flipping PDF or Page Flipping PDF Professional, there is no login out channel for you. So we have to find another new way to make it.

Just launch the flipping book maker, click "Online" menu and then click "Disable auto login".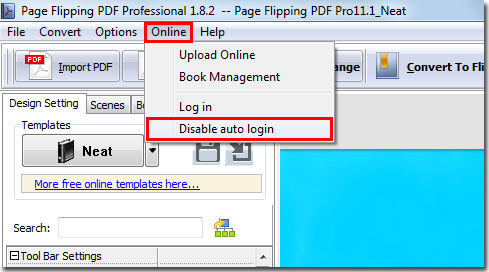 Then re-launch the flip book maker, click "Upload Online" icon to login in your new account.

*Please be aware that you have to click "Apply Changes" to apply any changes to the page flipping book.
Free download Page Flipping PDF
Free download Page Flipping PDF Professional
Free download Page Flipping PDF Mac
Free download Page Flipping PDF Professional for Mac