64. How to embed YouTobe video into page flipping book?
YouTobe is one of the most popular video website around the world. We like to watch interesting videos online to get fun. There must be many videos related to your page flipping book. Or you can design your own video and upload onto YouTobe freely. Embedded video can help to enrich the book content. It can also bring readers a surprise. It is so cool to enjoy a video when you are doing reading online. You should install the professional page flipping software to use the editing functions.

Step1: launch Page Flipping PDF Professional and click "Edit Pages" to open the Flip Page Editor;

Step2: click "Add YouTobe Video" and then draw an area for the video on page;

Step3: fill in the "Video ID" and click "Refresh"; you can adjust the video player size and location by dragging you mouse.
Then there is also a problem about how to get the video ID. Take an example that the video address is http://www.youtube.com/watch?v=OOb_LtjusUI . Then the video ID is "OOb_LtjusUI".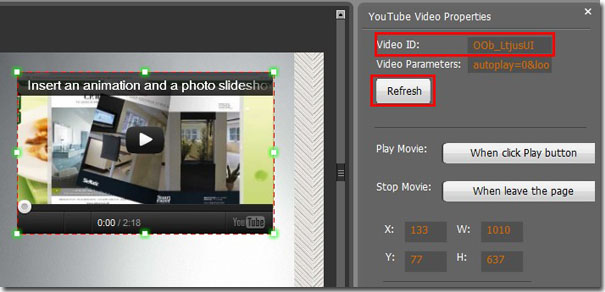 *Please be aware that you have to click "Apply Changes" to apply any changes to the page flipping book.
Free download Page Flipping PDF
Free download Page Flipping PDF Professional
Free download Page Flipping PDF Mac
Free download Page Flipping PDF Professional for Mac