57. How to insert link into targeted location on flipping page?
There are some original links in the PDF file and they are all preserved well after importing into flipping book maker. Still and all, we may need to add link on flipping page when necessary. Links can direct readers to visit publisher's home page, or they can get more information about they are interested in. But I would like to warm you that a property amount of links is important to page flipping book.

Step1: launch Page Flipping PDF Pro and import a PDF file, or you can only view the default demo;
Step2: click "Edit Pages" to open the Flip Page Editor;

Step3: click "Add Link" button and draw an area on targeted location you like;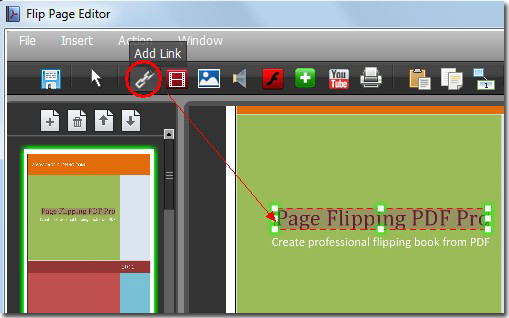 Step4: find the Link Properties window in the right side, click "Action Options" and fill in the URL. You can complete the others settings if you like. Just drag your mouse to adjust the size and location.
*Please be aware that you have to click "Apply Changes" to apply any changes to the page flipping book.
Free download Page Flipping PDF
Free download Page Flipping PDF Professional
Free download Page Flipping PDF Mac
Free download Page Flipping PDF Professional for Mac