33. How to switch language for flipping page window easily?
Default language of the flash window of page flipping book is English. But if your readers are all around the world and they might speak French, Chinese, or Japanese. To meet readers' needs, you should provide several languages for them to choose from. Or if your book is in Japanese, the flash window should be in Japanese to make coordination too. To make readers to select their favorite language, you should make sure that the Switch button is showed in the toolbar.
Step1: open Page Flipping PDF Professional;
Step2: find "Language" bar and open the Language Settings window to choose several languages your reader will be in need of, and then click "OK" to exit;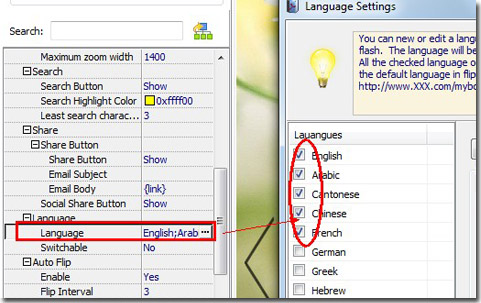 Step3: transfer "No" to "Yes" for the "Switchable" bar. Apply change to save the settings. By now, you can click Switch Language icon to switch language quickly.
*Please be aware that you have to click "Apply Changes" to apply any changes to the page flipping book.
Free download Page Flipping PDF
Free download Page Flipping PDF Professional
Free download Page Flipping PDF Mac
Free download Page Flipping PDF Professional for Mac