Insert a hidden window to play SWF flash into flipping book?
We like to apply SWF flash effect to webpage to make it attractive and dazzling. Flash effect is also able to make the webpage vivid and eye-catching. Professional flipping book maker provides full editing functions. User can insert elements to enrich the book content.
One way to insert SWF flash is that importing SWF flash into specific pages directly. The other way is to insert a hidden window to play SWF flash. In this way, you can insert the flash display window into link, button, and image. Take an example to insert a link to play SWF flash now.

Step1: launch Page Flipping PDF Pro, click "Edit Pages" to open the Flip Page Editor;

Step2: click "Add Link" icon in the top tool bar, draw an area for the link on page;

Step3: click "Action Options" icon in the Link Properties window, select "Open Flash Window" as the action type in the "Action Options window;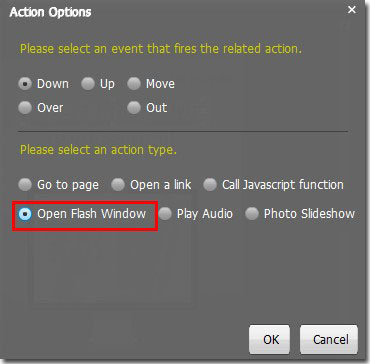 Step4: select "Open the window to show a SWF(Flash)" as the Window Type, import a SWF file, define the Window Caption and window size according to needs.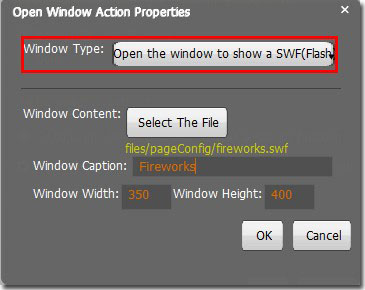 Step5: finally, click "OK" to save and exit the window. In addition, you should save the settings before exiting the Flip Page Editor. By this means, you can click the link to open the flash window and enjoy it.
*Please be aware that you have to click "Apply Changes" to apply any changes to the page flipping book.
Free download Page Flipping PDF
Free download Page Flipping PDF Professional
Free download Page Flipping PDF Mac
Free download Page Flipping PDF Professional for Mac