38. What can I do to make the page flipping book a 3D effect?
Today, I would like to tell you some simple skills to make your page flipping book a 3D effect. We convert PDF file to flash book as it can bring a visual treat. 3D effect is one of the most important factors to stunning page flipping publication. Our latest version of Page Flipping PDF Professional has upgraded some new features for you.
Step1: find the "pages per thickness" bar and set a value for it; we always set "1" as the book thickness;
Step2: make sure that "Show Corner Flip Effect" is "Ture. By this way, the corner of first page will be dynamic.
Step3: apply change to save settings.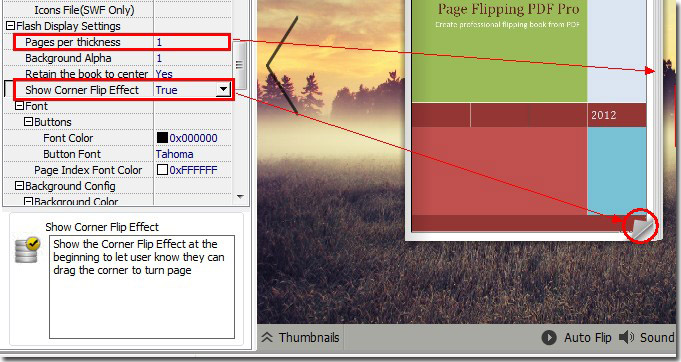 *Please be aware that you have to click "Apply Changes" to apply any changes to the page flipping book.
Free download Page Flipping PDF
Free download Page Flipping PDF Professional
Free download Page Flipping PDF Mac
Free download Page Flipping PDF Professional for Mac