43. What kind of background file can I import for flip books?
Well, we know that flip books today is more beautiful than before. Multimedia element can be inserted for creating an attractive works. As to background file, both image and flash are allowed. Always, people are tending to import image as the background file but ignore that flash animation is also able to work as page flipping book background.
So we can know users can import image and flash which suffixes ".swf" into Page Flipping PDF Professional.
As to steps to realize this function, please refer to following steps:
1 Launch Page Flipping PDF Professional;
2 Find "Background File" bar and click "…" to import an image or swf file;
3 You can also define the "Background position" for the background file. Usually, we select "Scale to fit" as background position.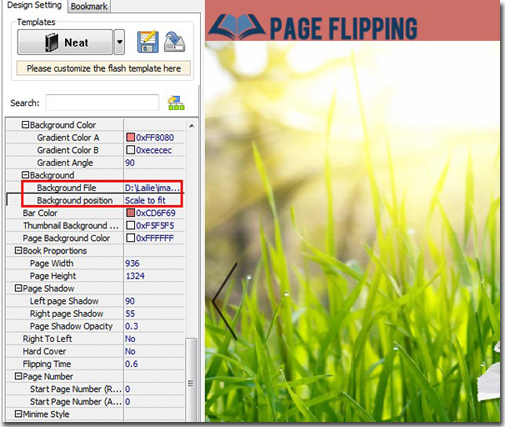 *Please be aware that you have to click "Apply Changes" to apply any changes to the page flipping book.
Free download Page Flipping PDF
Free download Page Flipping PDF Professional
Free download Page Flipping PDF Mac
Free download Page Flipping PDF Professional for Mac