$99
For Windows 7, Vista, XP

Page Flipping Image for Mac
Images turn to Realistic page flipping photo album for Mac!
Page Flipping Image for Mac
convert plenty of images into realistic
flip photo albums
to you easily and quickly. The Page Flipping photo album has a true feeling of stunning
page turning
and can be shared with friends and clients via an email or a website.The amazing software can be run on many different versions of Mac devices, like Mac OS X Leopard, Mac OS X Snow Leopard, Mac OS X Lion, etc.
Free Trial
Buy Now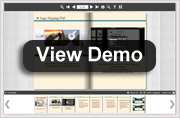 Flash Player 10.0+
Why Use?
Features
Screenshot
How It Works
Realistic page flipping photo album for Mac can be designed from here!
Excellent is because of the Perfect, as the gold is by fire!
1. Mac Accept Your Flash Photo Album
The most unique features of the Page Flipping Image for Mac is the flash flip photo album be made can run on Mac devices: Mac OS X Leopard, Mac OS X Snow Leopard, Mac OS X Lion, etc.
2. Easy to Operate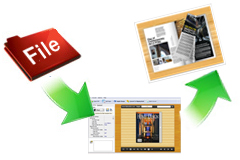 In the Page Flipping Image for Mac interface, you may easily import many images at the same time. Within a few minutes it will turn into the Page Flipping photo album with the realistic page flip effect, while you don't need to have any surplus learning to the software because Page Flipping Image for Mac is easy to use.
3. Various Decoration Setting
The Page Flipping Image for Mac offers users different style frames and clip arts of the Page Flipping Photo Album, to perfect accord with the users' aesthetic. Modify height and width to make your image, whether landscape or portrait, show correctly, different patterns express your different moods!
4. Distribution On-line by Html and Offline by App
The Page Flipping Image for Mac makes the Flipping photo albums, magazines, brochures and catalogues that can be distributed on-line when you output a html form; And if you output an app format, the flip photo album can run on Mac. Besides, the every generated flip album are all free of royalty, no matter your intended purpose is commercial or personal.
5. Realistic Page Flipping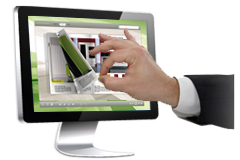 Page Flipping photo albums made by Page Flipping Image for Mac own convenient operations: Show you a realistic page turning and the third dimension feeling by using mouse wheel to flip pages, dragging the top corner to flip pages, clicking shadows to flip pages and turning the pages of flipping e-book with the sound on/off.
6. Pay for Once, Free Upgrading Forever
Many electric products are not free when you need upgrade, but we guarantee that one-time fee, upgrading free forever. The Page Flipping Image for Mac will always belong to you once ordered, you can use it to convert all your images to a flash flip photo album, and these are all you deserve. Once you pay for it, thousands of Flipping photo catalog you can make.
7. 30 Day Money Back Guarantee
We have been exploring the software for many years, and we have a sincere team with cohesion. We are faithful to our flipping builders, so we believe you will love the wonderful software. However, we still guarantee if you are dissatisfied with our services for any reason, you will get your money back, only request a refund at support@page-flipping.com by email.
Features
Page Flipping Image for Mac is more powerful program for you to make more attactive and amazing Page Flippings. You will easy handle and use the wonderful features below:
1. Different Choices When Import Files
(1). Select the source images and preview first;
(2). Import almost all formats of images:JPEG/JPG/JPE, BMP/Bitmap, PNG, TIF/TIFF, PSD, PCX, JPEG2k/JP2/J2K, RAW, DCM/DIC/DICOM and more;
(3). Import images from Computer or digital cameras directly;
(4). Decide the quality and size to your flipping photo album, Define quality and size for normal version and mobile version;
(5). Choose frame and clip art for your new flipping photo album.
2. Individualized Settings
(1). Have your own photo album logo and put your Home page website in the Logo URL, it will offer you a chance to show your website;
(2). Show or hide the full screen button, help button of your publication;
(3). Choose your Flip photo album can be printed, or not.
(4). At the same time, you can put your prepared watermark on it if you are willing to do this;
(5). Determine wether your masterpiece can be downloaded, cause maybe you just want others to read it, but not own it;
(6). Write your download URL in the Flip photo album, if you are agreed that your flip photo album can be download.
(7). Besides, you should sign in your download URL, upload any format of your Flip photo album;
(8). Insert a background music, if you think it is helpful to express your masterpiece, then choose sound enable, and the number of the sound loops;
(8). Hide or show the search button, and pick a color to symbol the words you have searched out, the least search characters can be changed also;
(9). Make the social share button show or hide in your publication, if you show the button, you can put in your email subject, and put the link in the email body;
(10). Choose language of the tool bar in your masterpiece, and if your readers are from different country, you can pick more language, but don't forget to make these language switchable;
(11). Settle on the color of the icon, and no doubt you can make the big icon and small icon appear with different color.
3. Various Output Format
There are four formats that Page Flip Image for Mac will take to you:
(1). Html: it makes your publication can be distributed on-line or just view offline;
(2). App: it is executable application can run on Mac.
4. Page Flipping Photo Album features
With the Page Flipping Image for Mac, you can create your own page flipping photo album which offers your readers more convenience to read your publications. While reading, the book users can do below activities:
(1). Use mouse wheel to flip pages;
(2). Click shadows to flip pages;
(3). Drag the top corner to flip pages;
(4). Share among friends via e-mail, Yahoo, Twitter, Facebook or other multiple medium;
(5). Download book to read locally;
(6). Automatic flip pages;
(7). Thumbnail present book pages to know your design more better;
(8). Full screen view;
(9). Share the flipping photo album to your friends via email;
(10). Double-click to zoom in or zoom out;
(11). Turn book background sound on/off when page is turning;
(12). Listen to the music while reading;
(13). Click on links you added and go to related pages;
(14). Minime style show your flash flip photo album.