22. Can I add watermarks only on printed flipping pages?
Q: I will allow my readers to print some of my online flash flip magazines. But I am wondering if it is possible to add watermarks on the flipping pages to protect my proprietary right. It will be great if I can show my website on each printed page.
A:You can import watermark file in to you page flipping book easily. It will only show in print out pages but won't show while viewing. I think this function can meet your requirement perfectly.
Import your watermark file for the "Print Watermark File" bar. The file should be image or SWF format. Besides, make sure that you have transferred "No" to "Yes" for "Print Enable" bar too.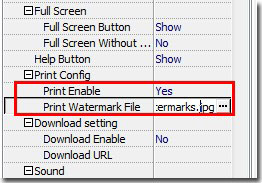 Free download Page Flipping PDF
Free download Page Flipping PDF Professional
Free download Page Flipping PDF Mac
Free download Page Flipping PDF Professional for Mac