$99
For Windows 7, Vista, XP

Page Flipping Photos
Animated page turn effect books from your photos!
Page Flipping Photos
is a wonderful application to batch convert ordinary images of Photos files into stunning
page-flipping
electronic booklets with flash and sound!
Page Flipping Photos
creates digital magazines and catalogs that behave like actual paper books. And the amazing
flipping e-book
will come to you and be shared among your friends via E-mail or multiple medium.
Free Trial
Buy Now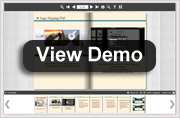 Flash Player 10.0+
Why Use?
Features
Screenshot
How It Works
1. Massive Image Files Supported

Page Flipping Photos offers timeless conversion from images to page flipping photo catalog. And different image formats are accepted, like: jpg, jpeg, tif, gif, bmp, wmf and emf etc.) You can import different format images at the same time, and they can be in one flipping photo catalog.
2. Templates and Themes

Page Flipping Photos provides various templates with different themes, you can pick a beautiful theme and lovely template to decorate your flip e-book. Also you can design themes by yourself also, and title and logo can be inserted in flip e-book title while using Float or Neat template.
3.Individual Operation
In the Page Flipping Photos, you can change settings of every button, you can decide to show them or hide them. For example, buttons of home, full screen, share or help etc. Moreover, there are buttons can be in enable or disable condition, as: download, print, sound and so on.
.
4. Various Insertions
Various insertions as: logo, URL, pictures, sound, Vedio, YouTube, etc in the Page Flipping Photos. The book logo and the logo URL inserted to popularize your web, company or organization; Insert sound file and control the loops; Embed pictures as the background or decorations.
5. Background Design
A real amazing e-book must have a comfortable appearance. Pick background pictures to your flipbook, and also you can select the color of the background. And there are two colors, so you need to set the Gradient Angle. And change the tool bar icon into images or SWF you like, and the icons' name can be changed, the color of them can be set. Well, all these makes your Flipping book more attractive.
6. Auto Flip
Enable the auto flip button, then pick the flip intervals for your readers. Usually you need to write in the play count, and choose when to auto flip. Then your flipping book can better express your feeling and thought. Full screen view offers readers more comfortable reading, and they can read your publication whole-heartedly.
7. Integration of Google Analytics
Are you a member of the Google Analytics? If you are, in the HTML output format of your Page Flipping E-book, you can add your Google Analytics ID to track your book reading status with ease. You will have an overall understanding of your book visiting data and each page popularity.
8. Pay for Once, Free Upgrading Forever
Many electric products are not free when you need upgrade, but we guarantee that one-time fee, upgrading free forever. The Page Flipping Photos will always belong to you once ordered, you can use it to convert all your Photos files, and these are all you deserve. Once you pay for it, thousands of Flipping books you can make.
9. 30 Day Money Back Guarantee
We have been exploring the software for many years, and we have a sincere team with cohesion. We are faithful to our flipping builder, so we believe you will love the wonderful software. However, we still guarantee if you are dissatisfied with our services for any reason, you will get your money back, only request a refund at support@page-flipping.com by email.
With Page Flipping Photos, powerful designs realized!
1. Design feature
(1). Easy import and quick convert;
(2). Convert Adobe Photos documents to Adobe© Flash® based page-flipping eBooks easily;
(3). Importing images in jpg, jpeg, tif, gif, bmp, wmf and emf etc;
(4). Create your own template;
(5). Set the quality and size for normal version and mobile version;
(6). Enable or disable the tool bar, as print and download;
(7). Modify height and width to show the image in fit place;
(8). Add watermark as: text, image, dynamic date/time etc to your flipping book;
(9). Add page number to output Flash e-book; Pick template and theme to your flipping e-book;
(10). Insert the background music and set the play loops;
(11). Set background color and image;
(12). Select the reading oder, from right to left or left to right;
(13). Set colors and position to the tool bar;
(14). Import text, then the search function can be flexible used in your flipping e-book;
(15). Automatic flipping setting to your flipping book;
(16). Encrypt your all pages or part of your flipping book;
(17). Manual turn the flipping book;
(18). Trigger another application after creating page flipping e-book;
(19). Full screen bar show or hide;
(20). Define language for your page flipping e-book.
2. Powerful Share
Page Flipping Photos makes Flipping e-book that should be known by more people, because the powerful share function helps you share the Flipping e-book with your partner, friends, clients or readers.
(1). Share your flipping publications via an e-mail;
(2). Via other hot medium, such as Google, Twitter, Facebook, Yahoo, Live etc.
Present your masterpiece, then use the Share function in Page Flipping Photos.
3. Different Output Formats
Page Flipping Photos helps you design your page flipping book easily and offers you different output formats, in order to provide you better services.
(1). html: Upload the html to a website, then your page flipping e-book can be viewed online (with title, keywords and other metadate defined);
(2). Exe: send the exe, then readers can download to view your flipping e-book on their own computer;
(3). Zip: Transmit the zip of your flipping e-book via email;
(4). App: run the executable application on PC;
(5). Mobile version: When output the flipping e-book in html, you can set the mobile version at the same time, then your flipping e-book can be read on mobile devices which support slide single pages;
(6). CD/DVD: Burn your flipping book to a disk, you can send the CD/DVD to your readers as present, and they can view your flipping book on their own computer.
4. Page Flipping e-Book Features
With the Page Flipping Photos, you can create your own page flipping e-book which offers your readers more convenience to read your publications. While reading, the book users can do below activities:
(1). Use mouse wheel to flip pages;
(2). Click shadows to flip pages;
(3). Drag the top corner to flip pages;
(4). Share among friends via e-mail, Yahoo, Twitter, Facebook or other multiple medium;
(5). Download book to read locally;
(6). Thumbnail present book pages to know your design more better;
(7). Full screen view;
(8). Double-click to zoom in or zoom out;
(9). Turn book background sound on/off when page is turning;
(10). Listen to the music while reading;
(11). Automatic flip pages;
(12). Click on links you added and go to related pages.