29. Can I change search highlight color for page flipping book?
We always want to design a page flipping book which has a perfect interface. Colors of toolbar, thumbnail background, icon and also search result we mention today are important factors. They must coordinate with each other to make a good looking appearance. Generally, the default search highlight color is yellow. Today let me take an example to change it to red for you.
Step1: open the Page Flipping PDF or Page Flipping PDF Professional;
Step2: find the "Search" setting section in the left panel;
Step3: define red as the "Search Highlight Color".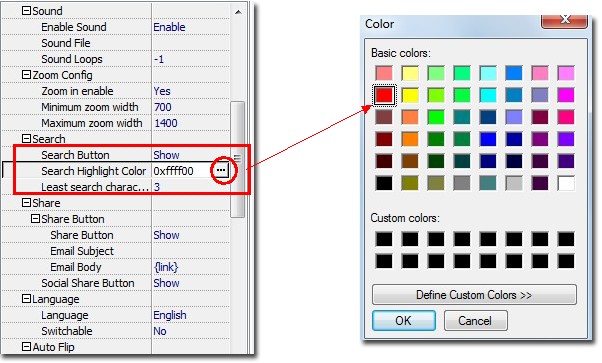 *Please be aware that you have to click "Apply Changes" to apply any changes to the page flipping book.
Free download Page Flipping PDF
Free download Page Flipping PDF Professional
Free download Page Flipping PDF Mac
Free download Page Flipping PDF Professional for Mac