56. Can I control output quality for flipping book in mobile version?
More and more people would like to read page flipping book on their mobile devices such as iPhone, iPad, or Android mobile devices. But there is a problem that the network speed in mobile device is not as high as in PC. So we should consider about the output quality and size of page flipping book. book maker has feature for adjusting pages quality and size especially for mobile version. Please refer to the following tips to get some help.

Step1: launch flipping book maker, Page Flipping PDF or Page Flipping PDF Pro;
Step2: click "Options" -> "Application Options" -> "Create Mobile Version";
Step3: choose a suitable option for pages quality and size from the drop-down list.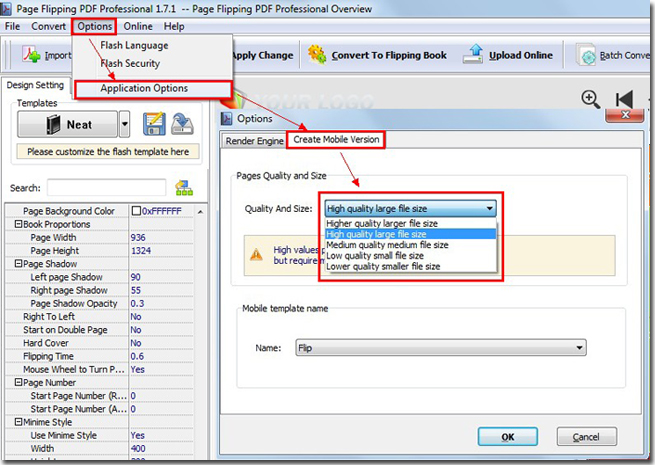 So you should balance well between page quality and size. As high values produced better page quality but require more disk space and more time to download.
*Please be aware that you have to click "Apply Changes" to apply any changes to the page flipping book.
Free download Page Flipping PDF
Free download Page Flipping PDF Professional
Free download Page Flipping PDF Mac
Free download Page Flipping PDF Professional for Mac