75. Can I hide my flipping book on page-flipping servicer?
Page-flipping provides servicer for users to upload their created flipping book online directly with the flipping book maker. And we also allow users to manage their e-books freely. It is your choice to delete, hide, or show your books. Page-flipping has provided user-friendly mechanism for flipping book designer. Once you have hided your book, readers cannot access to it via internet, only if you make it show again.
Launch Page Flipping PDF Professional, you can find the "Manage Online Books" button in the top center of the flash window. Just click it can sign in your account.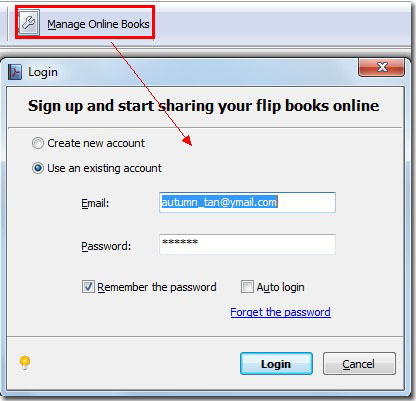 Check the book you want to hide and then click "Hide" button. Or you can click the hide icon to hide your book directly.
*Please be aware that you have to click "Apply Changes" to apply any changes to the page flipping book.
Free download Page Flipping PDF
Free download Page Flipping PDF Professional
Free download Page Flipping PDF Mac
Free download Page Flipping PDF Professional for Mac