9. How to control the flipping page quality when importing PDF?
Q: We all know that PDF file will be imported into page flipping software when we want to transfer it into flash eBook. So there must be a page quality controller to ensure the presentation quality. I don't want to see that my pictures are blurry and characters are illegible after importing. How can I prevent this problem?
A: We have provided the Page Quality feature for you in the "Import PDF" window. Obviously, high values produce better page quality but require more space and more time to download after you have uploaded it online.
There are five options for you to choose from. There maybe not obvious differences among them sometimes. But when you zoom in the page, you will find that it is much clearer when you have chosen the "Higher quality larger file size" than the "Lower quality smaller file size".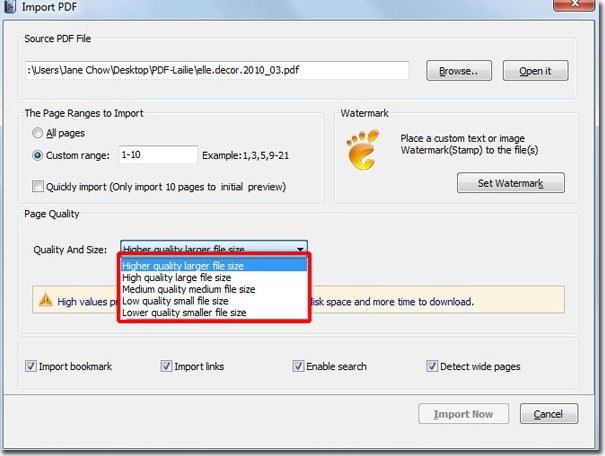 Comparison:
Free download Page Flipping PDF
Free download Page Flipping PDF Professional
Free download Page Flipping PDF Mac
Free download Page Flipping PDF Professional for Mac