77. How to do Meta settings for page flipping book in html format?
Meta settings can help to optimize search engine for webpage. There are four output types for user to choose from for the exporting page flipping book. When you plan to convert html digital book, you may need to do detail Meta settings for it.
HTML Meta Settings usually contain three items: Title, Deyword, and Description.

Step1: design page flipping book with Page Flipping PDF or Page Flipping PDF Pro;
Step2: click "Convert To Flipping Book" button to open the Output Options window;

Step3: select "*.html" as the Output type;

Step4: click "Advanced" icon and complete the Meta settings in "Advanced Settings" window. You can click OK and start the conversion.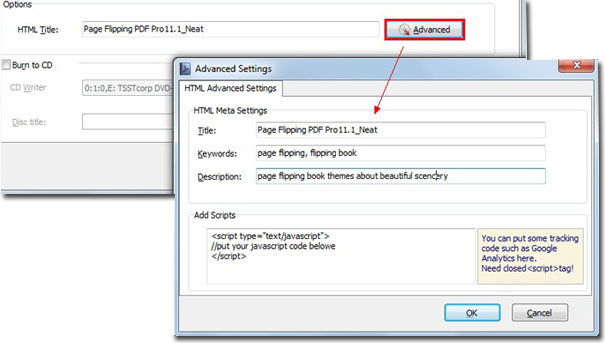 *Please be aware that you have to click "Apply Changes" to apply any changes to the page flipping book.
Free download Page Flipping PDF
Free download Page Flipping PDF Professional
Free download Page Flipping PDF Mac
Free download Page Flipping PDF Professional for Mac