71. How to ensure you have saved settings before exiting flip page editor?
When we use the professional flipping book maker to create flipping book, we would like to enrich the book content by editing multimedia elements into it. But there is a problem that some people might forget to save the settings before exiting the flip page editor. This will be a waste of time and bring troubles. If you are using the Flip Page Editor in Page Flipping PDF Professional, you can save the setting, save and exit, or exit directly.

Step1: launch Page Flipping PDF Pro, import a PDF file or open the project;
Step2: click "Edit Pages" to open Flip Page Editor and start to edit your page flipping book;


Step3: click "Save the settings" or "Save and exit" to make sure that you have save all the settings.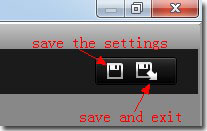 *Please be aware that you have to click "Apply Changes" to apply any changes to the page flipping book.
Free download Page Flipping PDF
Free download Page Flipping PDF Professional
Free download Page Flipping PDF Mac
Free download Page Flipping PDF Professional for Mac