51. How to make links open in blank window for flipping book?
Link is basic element for online flipping book. It leads readers to get more information and helps build site traffic. Always, link would be open in self window or blank window. And open link in self window will lead distraction for reading. So, if you think it is necessary to make links in flipping book open in blank window, please refer to the following steps.
Step1: launch Page Flipping PDF Professional and import your PDF file;
Step2: find "Open Window" bar under Links, and select "Blank" for it;
Step3: click Apply Change to save the setting.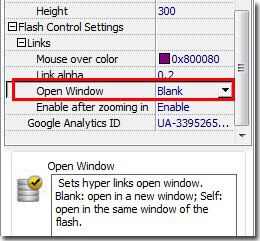 *Please be aware that you have to click "Apply Changes" to apply any changes to the page flipping book.
Free download Page Flipping PDF
Free download Page Flipping PDF Professional
Free download Page Flipping PDF Mac
Free download Page Flipping PDF Professional for Mac