3. How to make the page flipping book auto flip?
Q: When the page flipping book is uploaded online, it would be better to make it flip automatically in sometimes. The book will show as an advertisement or company brochure. What's more, the auto flip mode could make reading more convenient.
A: You can not only enable the auto flip function, but also define the flip speed and play count base on needs. Learn more about the process to realize it, please reference to the following steps.
Step1: find the "Auto Flip" group in the left panel.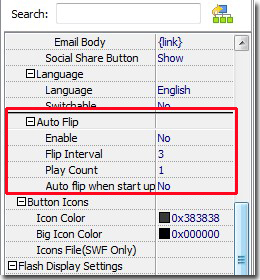 Step2: transfer "No" to "Yes" for the "Enable" bar.
Step3: define the "Flip Interval" and the "Play Count". If you need to play your book once it is opened, you should also transfer "No" to "Yes" for the "Auto flip when start up" item.
Finally, you should apply the change to show the "Auto Flip" button at the toolbar.
Free download Page Flipping PDF
Free download Page Flipping PDF Professional
Free download Page Flipping PDF Mac
Free download Page Flipping PDF Professional for Mac