How to save Design Setting values into a standalone file?
Designing template for flipping book means to finish the design setting in the left panel. Page Flipping PDF Professional provides around one hundred template setting items for you to customize. The values of them determine the appearance and function of published page flipping book. We would like to complete all the settings to perfect a book sometimes. The process will cost us some time. So you are wise save the settings values into a standalone file.

Step1: launch Page Flipping PDF Professional, create a project and customize the design settings;
Step2: click Save icon to save the template settings in the left panel as below; all the values will be saved into a text file;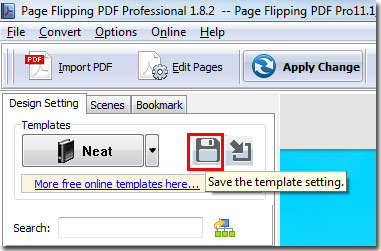 Step3: you can click Import icon to import the file.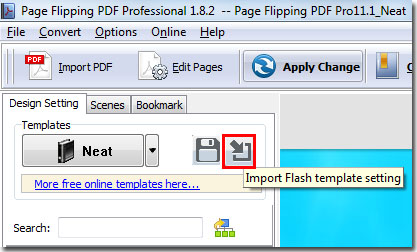 *Please be aware that you have to click "Apply Changes" to apply any changes to the page flipping book.
Free download Page Flipping PDF
Free download Page Flipping PDF Professional
Free download Page Flipping PDF Mac
Free download Page Flipping PDF Professional for Mac