35. How to shorten auto-flip interval for page flipping book?
It is great that the page flipping can flip automatically. By this way, readers can enjoy the flipping book with ease, especially when there are many pictures in the book. Sometimes we need to flip the book more quickly to get more information in a short time. Some readers might not like to read a book whose flip interval is too long. As to publisher, to define the flip interval according to specific condition is important.
First, open the Page Flipping PDF Professional;
Second, find "Flip Interval" bar in the left panel and define a value for it; the unit for it is a second;
Third, make sure that you have made "Yes" for "Enable" bar under the "Auto Flip";
Finally, don't forget to apply these settings.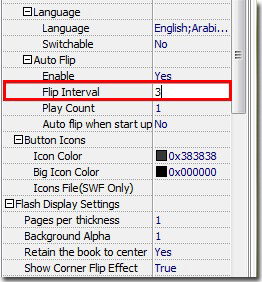 *Please be aware that you have to click "Apply Changes" to apply any changes to the page flipping book.
Free download Page Flipping PDF
Free download Page Flipping PDF Professional
Free download Page Flipping PDF Mac
Free download Page Flipping PDF Professional for Mac