59. How to simply add image into page flipping book?
Picture always shows more specific information than characters sometimes. A page flipping book full of text would require focusing attention for a long time. It is tire to do reading like that. So we suggest flipping book designer to insert some beautiful pictures to enrich the book. It is also a practical way to spread information. Flipping book maker allows users to simply adding images into pdf to flipping book easily.
Step1: open Page Flipping PDF Pro. Only the professional version has editing functions;
Step2: click "Edit Pages" button to open the Flip Page Editor;


Step3: click "Add Image" and draw an area on page with mouse, or you can just click the page to get an area, and then adjust its size by dragging your mouse;

Step4: select an image from your computer in the Image Properties window;
Finally, just save and exit the Flip Page Editor.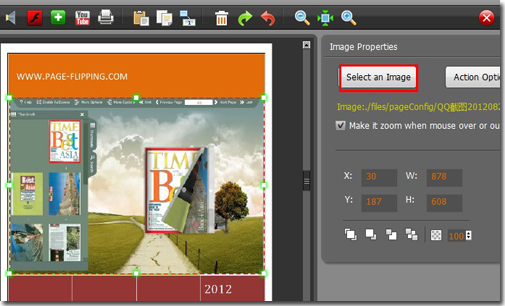 *Please be aware that you have to click "Apply Changes" to apply any changes to the page flipping book.
Free download Page Flipping PDF
Free download Page Flipping PDF Professional
Free download Page Flipping PDF Mac
Free download Page Flipping PDF Professional for Mac