Make page flipping thumbnails initially show
We are used to making folders and files show their thumbnails on local computer. In this way, we can find what we need more quickly. In a page flipping book, you may also want to show the pages thumbnails if allows. Pages thumbnails work the same way as files thumbnails. In a page flipping book, we can open or close book thumbnails base on specific needs freely. And in some cases, we might need to make the flipping book thumbnails initially show in the flash window so that viewers can find it once open the book.
No matter you are using the professional version flipping book maker or the standard version flipping book maker; you can do the setting at Float Template and Spread Template.
So at first, please choose a Float Template or a Spread Template for your flipping book;

Secondly, find "Initial Show" bar in the left design setting panel and choose "Thumbnails" for it;
Finally, click "Apply Change" icon to save the setting.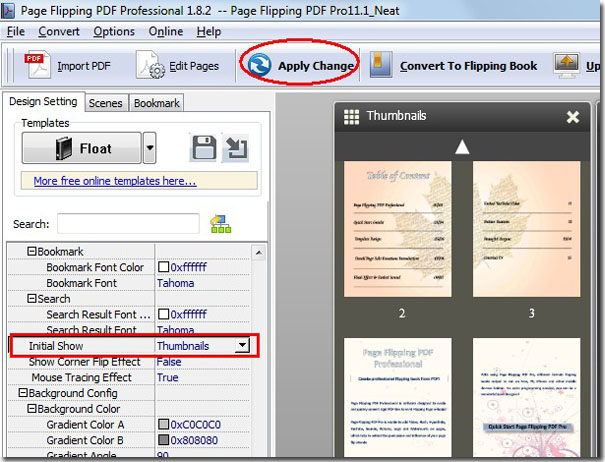 *Please be aware that you have to click "Apply Changes" to apply any changes to the page flipping book.
Free download Page Flipping PDF
Free download Page Flipping PDF Professional
Free download Page Flipping PDF Mac
Free download Page Flipping PDF Professional for Mac