Make the flash bookmark always show in Classical Template.
Classical Template is standard template which enables full functions. When our flipping book contains rich content, we prefer to create a bookmark for it. Readers can know about the general situation of the book in a few seconds. Then how to make the bookmark show initially in the flash window if we are using the Classical Template? This can be realized easily by using page flipping book maker.

Step1: create the bookmark and click "Apply Change" to save the setting. The bookmark icon will be hidden if no bookmark is created;

Step2: find "Always Show Bookmark" in the left design setting panel and make it "Ture";
Step3: click "Apply Change" icon, the bookmark will display in the left of the flash window.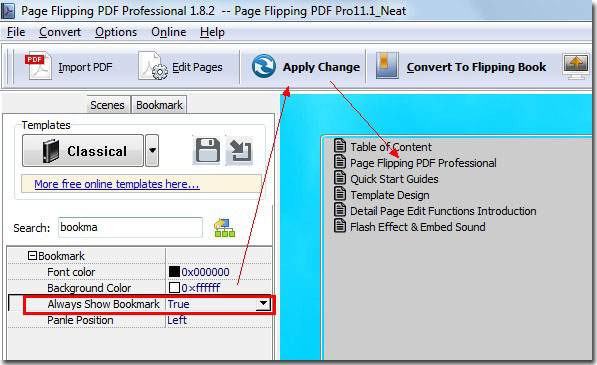 *Please be aware that you have to click "Apply Changes" to apply any changes to the page flipping book.
Free download Page Flipping PDF
Free download Page Flipping PDF Professional
Free download Page Flipping PDF Mac
Free download Page Flipping PDF Professional for Mac