Page Flipping Themes for Modern Home Style
Modern Home style themes package contains three themes in it.
Import it into the Page Flipping PDF (Pro) directly for page-flipping magazine.
It is completely free for downloading and using.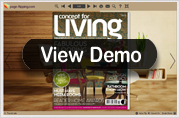 Flash Player 10.0+
Modern Home Themes for Page Flipping PDF (Pro)
Here is the modern home style theme for you today. With the improvement of living standards, quality of life is that each of us pursued. We pay more attention to the interior decoration. To make a relaxed feeling, the themes we provide today are decorated with the background which is designed in neat style. It is perfect to match with the neat template. There are a bathroom, a living room, and a study. Just go to import such kind of template into your page flipping magazine to make an amazing effect. Many people are looking forward to a modern home like that and they will fall in love with your flash publications. On the other plus hand, this themes package is perfectly suitable to an interior decorating company who want to make a brochure for propaganda purposes. And of course, someone who just simply likes the themes can download free too. Our destination is to do some help on the page flipping book designing.
To use Themes & Template, you must install Page Flipping PDF Pro or Page Flipping PDF at frist!
You can also reference to Order FAQs for more details about purchase.
Modern Home Themes Screenshots