Page Flipping Themes for Nightfall Style
There are three themes in this nightfall package.
It is available for page-flipping magazine which designed with the Page Flipping PDF (Pro).
No any penny is required for downloading and using.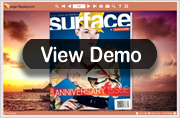 Flash Player 10.0+
Nightfall Themes for Page Flipping PDF (Pro)
The page flipping book theme we release today is about scenery which taken at nightfall. You finish the works and on your ways home when the sun sets. You always miss the beautiful scenery as you are so tire. The sky is colorful and the wind is cool and slow at that time. We design this nightfall theme for you to enjoy the wonderful sight today. The first one is taken from the sea, the second one is taken from the hillside, and the third one is taken from the lakeside. The cloud is in red tones as the sunlight is reflecting below the horizon and the twilight is replacing the daylight. It is a good time to have a reading. The page flipping book which is decorated with the theme in nightfall style is a good choice. Download and apply it into your flash magazine right now!
To use Themes & Template, you must install Page Flipping PDF Pro or Page Flipping PDF at frist!
You can also refer to Order FAQs for more details about purchase.
Nightfall Themes Screenshots