Page Flipping Themes for Snow Mountain Style
There are three themes in the download package.
It is available for page-flipping magazine which designed with the Page Flipping PDF (Pro).
You are not required money for downloading and using.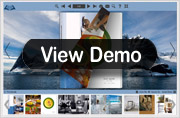 Flash Player 10.0+
Snow Mountain Themes for Page Flipping PDF (Pro)
When the winter is coming, temperature is falling, and snows can be seen in the high mountains. You could not image how code is it in the hot summer. This theme in snow mountain style would like to bring you cool in summer days. The awesome beauty of the scenes will be fond of many people. The sky is blue and the tree branches turn golden in the sunshine. It will bring your page flipping book a total different feeling. To make a functional flipping magazine, I would like to suggest you to insert your logo, download URL and integrate the Google Analytics ID for the e-book you are planning to upload online. The theme in snow mountain style is able to create a nice looking. And for more questions about how to design outstanding page flipping e-publications, you can refer to our website to learn more.
To use Themes & Template, you must install Page Flipping PDF Pro or Page Flipping PDF at frist!
You can also refer to Order FAQs for more details about purchase.
Snow Mountain Themes Screenshots