Page Flipping Templates for Stone Style
There are three themes in the download package.
It is available for page-flipping magazine which designed with the Page Flipping PDF (Pro).
You are not required money for downloading and using.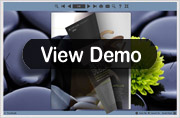 Flash Player 10.0+
Stone Themes for Page Flipping PDF (Pro)
You might have owned many beautiful page flipping templates. But there may not a stone style for your Page Flipping PDF Professional. We always need many themes in different styles to meet different styles. No matter you are publishers or individuals, you need to download free templates on standby. Page flipping themes in stone style is special. It will bring your book a total different feeling. Stones laying on the background are all mellow and full. Believe it or not, it reminds me of healthy, elegant, and stylish life style. What's your feeling about it? Of course, you can apply it to e-publications about life or any others styles you like. What our readers need is special, outstanding, and attractive works.
To use Themes & Template, you must install Page Flipping PDF Pro or Page Flipping PDF at frist!
You can also refer to Order FAQs for more details about purchase.
Stone Themes Screenshots