Page Flipping Templates in Attractive Blue Style
There are three templates in the download package.
It is available for page-flipping magazine which designed with the Page Flipping PDF and Page Flipping PDF Professional.
You are not required money for downloading, using and upgrading.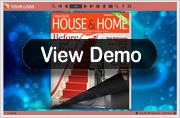 Flash Player 10.0+
Attractive Blue Themes for Page Flipping PDF (Pro)
Today we release page flipping templates in attractive blue style. You are so lucky to be here if blue is your favorite color. We consider that some people do not want to import dazzle theme to decorate their page flipping book. They prefer background in one dominant color but not monotonous pure color. Then this attractive blue style template would be a good choice. Blue is one common kind of cool colors. It will help to create a peaceful and tranquil atmosphere. You can find from the following screenshots that the first theme is about light spots in heart shapes. And little water drops are laying on the blue rose in the second theme. In the third theme, blue beautiful sky is imported as the background.
To use Themes & Template, you must install Page Flipping PDF Pro or Page Flipping PDF at frist!
You can also refer to Order FAQs for more details about purchase.
Attractive Blue Themes Screenshots