FREE
For Windows 7, Vista, XP

Page Flipping Free PDF to PowerPoint
Converting your PDF files to PowerPoint documents, once you experienced the Page Flipping Free PDF to PowerPoint, you will fall in love with other products which is full of suprise!
①Free software for customers believe and support us for a long time;
②Quick and easy operating, you don't need extra learning;
③Conserve the images and hyperlinks in the new document made by the software.
Download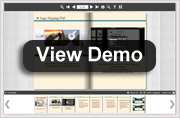 Flash Player 10.0+
Page Flipping Free PDF to PowerPoint specialized for Windows 7, Vista and XP. And without any programming lessons you can easily convert PDF to PPT document, that can be output a command line format, then the PPT can be directly viewed in the original window.